Benefits
Reduced labour costs

Reduce or completely remove manual errors

Improve productivity and increase performance

Integrate all your systems to work together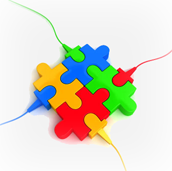 Want to know more?
The Problem
Do you or your staff spend time importing and exporting data, or even worse manually copying data from one piece of software to another?

Regardless of what software you use, whether it's commercial, open source or custom made, there's a good chance it doesn't do everything for every part of your business. Accounting, Invoicing, Stock control, Call logging, whatever industry you're in there's a common problem - You need to transfer data between one software package and another.
The Solution

The ideal solution would be to have all of your software custom made so it integrates seamlessly, but we understand that's not always possible. Perhaps you've already spend money on your software and don't want to start from scratch, or maybe you like the software you have but want it to integrate better. Fortunately there may still be a solution for you.

A lot of software developers are aware of the problem and, even if they aren't interested in providing integration solutions themselves, provide a method for other coders to "hook" in to their software. Wangi Software provide consultancy and integration services to get your software packages working together and reduce or completely remove the manual element that can be extremely costly and time consuming. We are experienced at working with many common packages and some not so common ones. Even if we aren't familiar with the package you use we like a challenge and, if an integration can be done we will find a way.